---
from
---
Note: Current p/p indicative rate. Final price may change due to currency fluctuations.
---
---
Overview
If the untouched South Pacific is what you seek, then you'll find it on this delightful cruise. The truly spectacular Sacred Islands will astound you and the mighty Yasawa Islands will offer all you dreamed of and more. Up in the Blue Lagoon area, you'll find paradise, and there, you'll have a great array of activities, both onshore and in the water to keep you entertained. Discovering the Fiji culture is an integral part of the cruise, and you'll learn sacred stories and legends from the Yasawan villagers themselves. To ensure you have the best possible cruise experience, we use 'flexible cruising'. What this means is that we're prepared to alter our itineraries, either when necessary, or when some exciting opportunity arises. For example, if there is some special event taking part in a local Yasawa Village, which you really should see, then we will alter our cruise route to take you there. Or, if we think that that our destined anchorage for the night is not going to be as sheltered as a bay on the other side of the island, we'll up-anchor and move. Cruising through a region of coral lagoons and isolated island anchorages is weather dependent and so, at times, our itineraries may need to be altered. However we'll always endeavor to ensure all of the highlights of each cruise are enjoyed by our guests.
Departures
Note: Current p/p indicative rate. Final price may change due to currency fluctuations.
Cruise Itinerary
Following a private high-speed catamaran transfer to the Sacred Islands, you'll be welcomed aboard M.V. Fiji Princess. Settle into your cabin and have lunch on the ship, then spend your afternoon snorkelling, swimming and relaxing on the beach. Enjoy a complimentary sparkling wine and canapés as you mix and mingle with your fellow cruisers prior to the Captain's Welcome Dinner.
---
Today's destination is the famous Blue Lagoon and our own private beach on beautiful Nanuya Lailai Island. M.V. Fiji Princess will tie off to a coconut tree and this is your chance to jump off the back of the ship as many times as you like and swim to shore. Optional activities include snorkelling, fish feeding, volleyball, water aerobics and a coconut husking demonstration. A BBQ lunch will be served on the beach while tonight's dinner is a traditional Fijian Lovo — a meal cooked underground in a fire pit. Tonight's entertainment is a Meke performance by local villagers.
---
Stretch your legs this morning with a 40-minute guided walk to Lo's Tea Shop on the other side of the island. Walk back to M.V. Fiji Princess or travel by water taxi for your cruise north to the sacred Sawa-I-Lau Caves, followed by a visit to Tamasua Village where you'll enjoy a traditional seafood dinner. Tonight, we'll screen the Brooke Shields' classic film The Blue Lagoon on the Sky Deck (weather permitting) which was filmed here in the Yasawa Islands.
---
This morning you can choose to visit a local school before we head south again, this time for Drawaqa Island. A marine biologist will join us on board to tell us about the marine life, coral reefs and the conservation programmes that the Vinaka Fiji Trust has been working on in the Yasawas. This afternoon you can take part in some optional extras (diving* or handline fishing), go in search of the manta rays (May-Oct) or simply relax on the beach. For our last night together, we'll have a BBQ on the Sky Deck (weather permitting) followed by a disco. Boogie on down!
---
Enjoy breakfast on board as M.V. Fiji Princess cruises back to Port Denarau. Back at port you'll be serenaded with the traditional Isa Lei farewell song by the crew, as your exploration of the beautiful Yasawa Islands comes to an end.
---
The actual route sailed is weather-dependant and will be determined by the Captain to ensure the best cruise experience for you.
---
Fiji Princess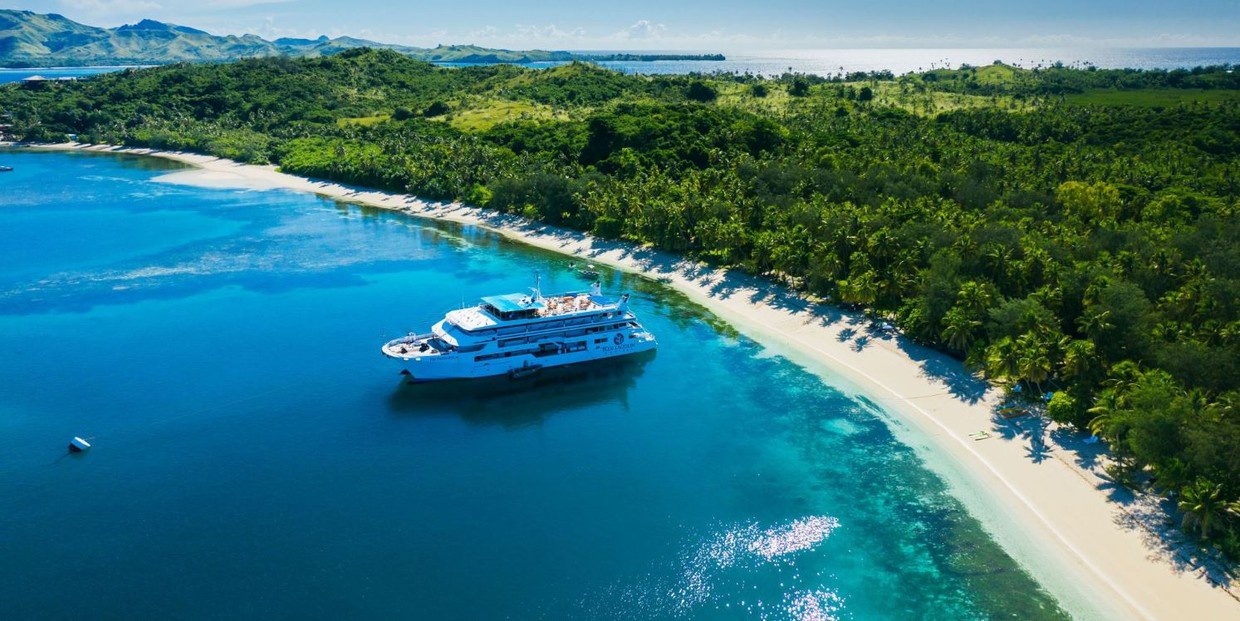 Vessel Type: Motor Yacht Length: 55m Passenger Capacity: 68 passengers Built: 1998 - Refurbished 2014 The M.V. Fiji Princess will be your home away from home for the duration of your cruise, except you'll wake up in a different stunning location each morning. With nearly 70 years' experience cruising the islands of Fiji, we know all the best places to take you. Who better to show you their home than the Fijians themselves. We pride ourselves on having an all-Fijian crew and with a high crew member-to-guest ratio, you just know you will be looked after. Our crew will quickly know you by name and every way you turn there will be a big 'BULA' welcome. Small enough to tie off to a coconut tree… The small size of Fiji Princess is just one of the things that makes a cruise with us so special. Accommodating up to 68 passengers and measuring only 179 feet (55 metres) in length, we can access bays and islands that would be impossible to reach in a large ship. We can get so close to shore, that we can tie off to a coconut tree and you can swim to the beach! Facilities An open-air dining room with views out over the sea to the rear of the vessel Shaded sky deck bar and saloon bar Sun loungers on the large upper sun deck A small range of souvenir items for purchase Splash pool A library of reading material and games In room movies available on demand Glass bottom coral viewing boat Kayaks Stand-up paddle boards Free WiFi (available where coverage allows) Self service guest laundry Food Onboard
Highlights
• Visit the film location of The Blue Lagoon • Swim with manta rays (May to October) • Snorkel or dive around superb tropical reefs • Dine on delicious traditional Fijian meals as well as a range of international cuisine • Visit remote Fijian villages • Take part in a traditional Kava ceremony Islands • Picnic and dinner under the stars at our private beach Nanuya Lailai • Onboard spa and beach massage bure • Visit the sacred Sawa-I-Lau Caves
Map