---
from$ 18340 AUD
---
Note: Current p/p indicative rate. Final price may change due to currency fluctuations.
---
---
Overview
Cruise the sapphire Adriatic aboard the historic tall ship Sea Cloud, soaking up history and local culture along the stunning coasts of Croatia and Slovenia. Delve into the legacies of great empires from the Romans to the Venetians as you encounter ancient ruins and striking architecture that span the centuries. Get acquainted with picturesque old towns from Rovinj to Hvar, sample local wines and specialties, and explore important castles and palaces as we sail from Venice to Dubrovnik. Along the way, we'll keep our schedule flexible so that we can take advantage of opportunities to raise the sails or discover a spectacular part of the coast.
Departures
Note: Current p/p indicative rate. Final price may change due to currency fluctuations.
Cruise Itinerary
Arrive in Venice. Embark Sea Cloud in the late afternoon and settle into your cabin. (D)
---
Join the Chief Mate for a play-by-play description of the crew in the rigging and the action of the setting of square sails, staysails, and jibs as Sea Cloud shows her full glory. Bask in the comfort and intrigue of this legendary and historic squarerigger as we sail toward Slovenia. (B,L,D)
---
Anchor off the gem-like harbor town of Piran, and drive through the tranquil countryside to charming Ljubljana. Architect Jože Plečnik designed the city center when Ljubljana suddenly became a capital city after World War I, and his harmonious blending of old and new, linked by waterways and green spaces, recently earned the city designation as a UNESCO World Heritage site. On a walking tour, see the 15th-century town hall, and the castle perched above the city, and admire the diverse architectural styles of Prešernov Trg square. Cross Triple Bridge and stroll along the café-lined Ljubljanica River before a lunch of Slovenian specialties. En route back to the ship, stop for a visit to the 800-year-old Predjama Castle, nestled high on a cliff side. Tonight, sail along the coast of the Istrian Peninsula. (B,L,D)
---
Go ashore in Rovinj, once one of the most important cities in the Venetian Empire, and travel inland to Pula. Settled by an ancient Illyrian tribe, it reached the height of its power under Roman Emperor Caesar Augustus. Venture to its remarkably well-preserved amphitheater, built by Emperor Vespasian in the first century A.D. and believed to have held around 20,000 spectators. Drive through olive groves and vineyards to the Meneghetti Wine Hotel and Winery, sample award-winning vintages, and hear tales of when the region was ruled by the Austro-Hungarian empire. After lunch aboard Sea Cloud, venture into Rovinj's charming old town set on a tiny peninsula that was an island until 1763. Walk the cobbled streets, peruse the local open-air market, and see sites that illustrate the city's close ties with Venice. (B,L,D)
---
Spend a relaxing day sailing the Adriatic. Join our expedition staff on the Lido deck for talks about the region's history, culture, and geography. Take in stunning views of the craggy cliffs and white stone isles that line Croatia's coast, and sit down to regionally inspired meals accompanied by fine wines. This afternoon, cruise through Kornati National Park, an archipelago of more than 80 rugged islands. Arrive in Split this evening. (B,L,D)
---
Delve into the bustling port city of Split this morning, and discover the World Heritage-listed Diocletian's Palace. Built by Emperor Diocletian as a sumptuous place to retire, this site is now a beguiling maze of marble streets, churches, and fortifications that tell the history of the city from the Romans and Byzantines to the modern day. Enjoy an afternoon of sailing en route to the far-flung island of Vis. (B,L,D)
---
One of the outermost of Croatia's many islands, Vis was ruled successively by the ancient Greeks, Romans, Venetians, Austrians, and Italians. It became a central Yugoslav military base during World War II, and only opened to tourists in 1990s, making it less developed and less populated than many of its neighbors. Set out on a walking tour of the fishing town of Komiža, and see the traditional sailing vessels called falkušas, which have been used here since the 16th century. Hear about ageold regattas originally designed to keep pirates at bay. Take in expansive views from the rugged interior and visit a family-owned winery for a tasting and traditional peka lunch. See the tunnels where Yugoslav resistance leader Josip Broz Tito hid from the Nazis during World War II, and venture to hillside barracks and hidden bunkers. (B,L,D)
---
At the height of Venetian rule, Hvar was the region's most prosperous center. Set off on a walking tour along the waterfront and inside the delightful walled city. Visit the 15th-century Franciscan monastery, the arsenal, and Croatia's oldest active theater. If you choose, hike up to the citadel for spectacular views of the island and the azure Adriatic beyond. This afternoon, take to the seas on our final sail. (B,L,D)
---
Disembark in Dubrovnik this morning and transfer to the airport for your flight home. (B)
---
Itineraries are subject to change.
---
Sea Cloud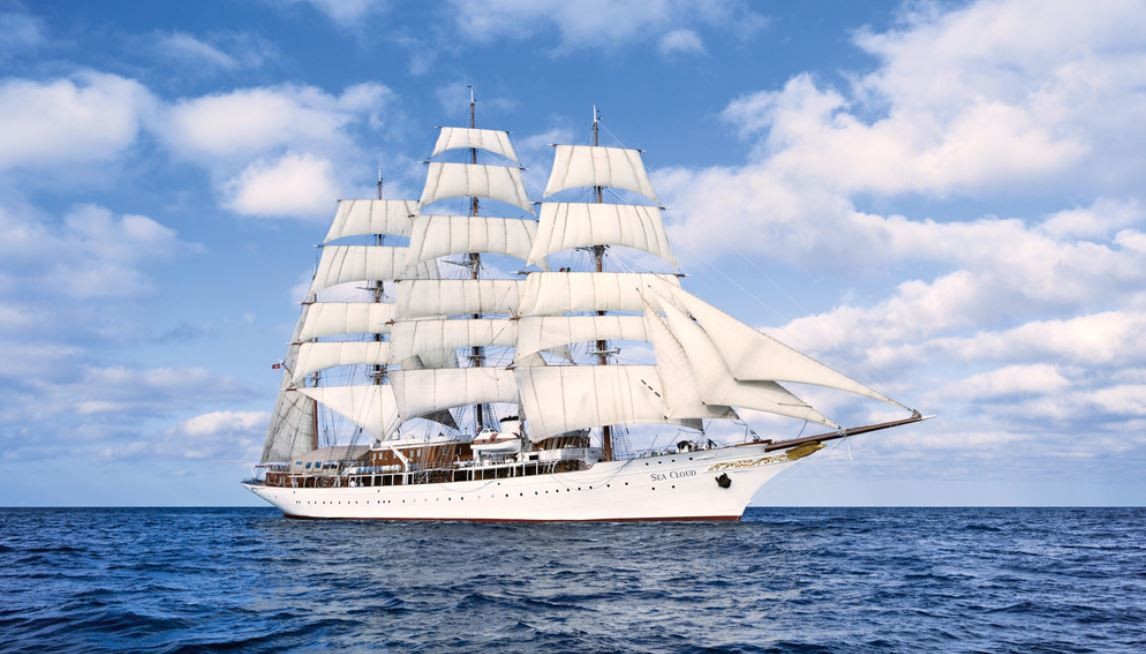 Vessel Type: Tall Ship (Sailing) Length: 109 metres Passenger Capacity: 64 Built / refurbished: 1931 / 2011 Sea Cloud is a ship with a soul, imbued by the original owners, Marjorie Merriweather Post and her husband E.F. Hutton in the 1930's. The ship has played host to royalty, known service in wartime, and sailed the world over. She is a vessel of incomparable grace that harks back to the golden age of ship travel. Once you've been on Sea Cloud under full sail, you'll begin your own love affair. Welcome aboard a legend Sea Cloud accommodates 58 guests in 28 outside cabins including two original owner's suites that still feature original marble baths and fireplaces. At 360 feet she is an expansive ship with extensive public spaces on the top deck, where we luxuriate in deck chairs and watch the crew of 18 go aloft in the web of riggings to hand-set her 30 sails. Her dining room is hung with marine oil paintings of the period and accommodates all guests at once for a single seating. We'll gather in the lounge each evening for Recap. Life aboard is a uniquely pleasing mix of elegance and informality—a return to the golden age of sailing in shorts and deck shoes. You'll find all shipboard services impeccable. Discover the romance of tall ship sailingExperience something many people don't know exists in the 21st century—the romance of life under square sails. Discover the thrill of standing on deck as Sea Cloud gently glides through the water, her crew aloft in the riggings, running out and reefing sails. Settle in to your favorite areas on the top deck and bask in the incomparable experience of traveling aboard the finest tall ship to ever sail the seas. Lose yourself in an adventure that, in this day and age, is almost unimaginable. Please note deck and suite plans are indicative only and may vary slightly.
Highlights
• Venture to Croatian sites that tell the region's rich history, from Neolithic Vis to the Roman ruins of Pula and the Venetian gems of Rovinj and Hvar • Visit UNESCO World Heritage sites including Diocletian's Palace complex in Split and the lovely city center of Ljubljana • Step into history at Slovenia's cliff-side Predjama Castle, and see hidden World War II bunkers and tunnels in Vis • Relax under the billowing sails of a legendary square-rigger, enjoying the elegance and exceptional service of Sea Cloud, once the private ship of Marjorie Merriweather Post
Map