---
from$ 24590 AUD
---
Note: Current p/p indicative rate. Final price may change due to currency fluctuations.
Ship
National Geographic Orion
---
---
Overview
Following in the wake of early Polynesian navigators, this voyage takes you to the farthest reaches of Oceania. From remote and enigmatic Easter Island, to the historically significant Pitcairn Islands through the "low islands" of the Tuamotu Archipelago to Tahiti, you'll visit islands that are virtually inaccessible and untouched. The voyage begins in one of the most isolated landfalls of Polynesia: Easter Island. Walk the length of untouched tropical beaches, meet the descendants of H.M.S. Bounty mutineers, and drift dive or snorkel through an atoll pass.
Departures
Note: Current p/p indicative rate. Final price may change due to currency fluctuations.
Cruise Itinerary
Arrive in Santiago, Chile. Upon arrival, transfer to the Ritz Carlton in central Santiago. Then, join your Lindblad staff this evening for a welcome reception. Early the next morning, fly to Easter Island where you will check into the Hanga Roa Eco Village & Spa for two nights. Explore volcanic calderas, jagged lava fields, and sweeping grasslands to discover the colossal moai statues, the astonishing legacy of a long-lost culture. Join archaeologists to examine these statues and discuss their meaning and creation; visit burial sites, quarries, and intricately carved ceremonial altars. Embark National Geographic Orion. (DAYS 1-4: B,L,D)
---
Set sail from Easter Island on our journey west, listening to talks by our experts as we sail for two days. We begin our exploration in Ducie Atoll, where we spend time watching for frigatebirds and boobies and snorkeling or diving among spectacular reefs. Our next stop is the UNESCO World Heritage site of Henderson Island, an uplifted atoll that is uninhabited and virtually untouched by humans. On hikes and Zodiac excursions, discover the island's four endemic bird species, rich flora and fauna, and fascinating geology. Many of the mutineers of the legendary Bounty made their home on Pitcairn Island in the late 18th century, and about 50 of their descendants still live here today. Meet the residents and hear a few words of the unusual Pitkern dialect—a combination of English "sailor speak" and Polynesian phrases. Visit the gravesite of the last surviving Bounty mutineer, John Adams, and see the Bounty's anchor, which was salvaged in 1957. (B,L,D)
---
Spend a day at sea scanning the horizon with our naturalists, or relaxing on deck with a good book. We then arrive at Mangareva, the largest of the Gambier Islands, and famous for its black pearls. Venture underwater to snorkel or dive, meet islanders to learn about their culture and the missionaries who made their home here, and go on a hike with our naturalists. (B,L,D)
---
We begin our exploration of the "Dangerous Archipelago" in Pukarua, where we'll be greeted by traditional dancers. Navigate reefs and islets during a day at sea and then in true expedition mode, explore one of the uninhabited atolls such as Tahanea. After a festive welcome with traditional dancers in Fakarava, one of the largest atolls in French Polynesia and part of a UNESCO Biosphere Reserve, learn about the island's pearl industry, and walk its pristine beaches. Snorkel the protected reefs or ride the current into the lagoon on a world famous drift dive. (B,L,D)
---
Arrive in Papeete, French Polynesia and take a tour of Tahiti before your flight home. (B,L)
---
All day-by-day breakdowns are a sampling of the places we intend to visit, conditions permitting.
---
National Geographic Orion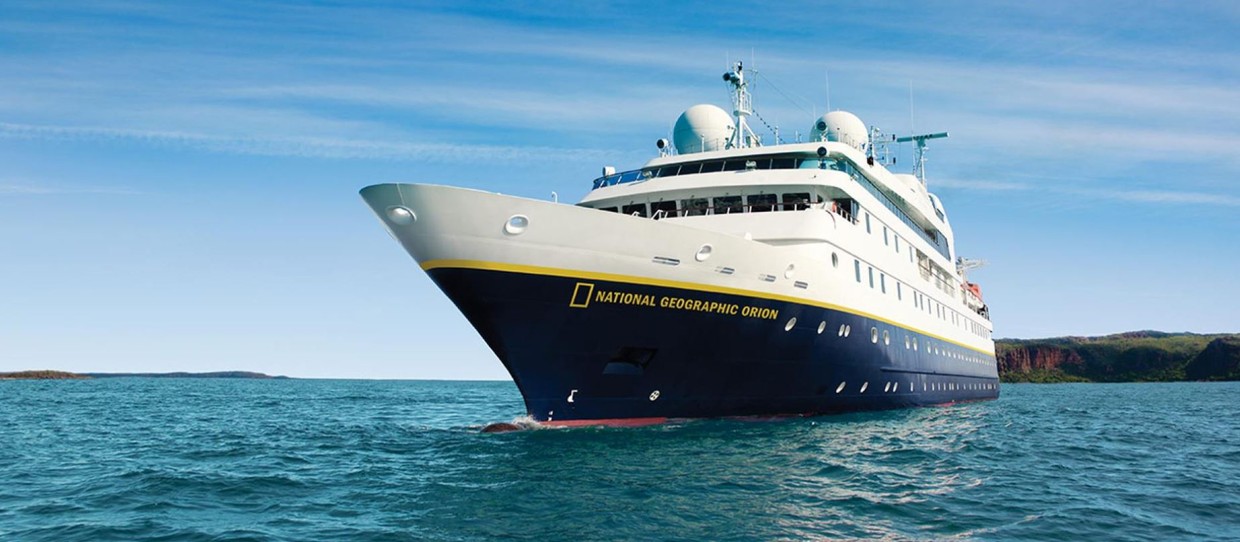 Vessel Type: Luxury Expedition Length: 103 metres Passenger Capacity: 102 (in 53 cabins) Built: 2003 / Refurbished 2014 Engineered for maximum comfort and safety, Orion is equipped with the latest technology including large retractable stabilizers, sonar, radar, and an ice-strengthened hull. A shallow draft plus bow and stern thrusters provide the convenience of being able to maneuver close to shore. 14 Zodiacs ensure quick disembarkation and offer the ideal transport for up-close exploration. National Geographic Orion meets strict specifications for environmental protection and the on board waste management systems meet the stringent Antarctic operational standards enabling us to travel to the most pristine environments. A host of advanced design features and technology ensures sustainable marine environmental practices. National Geographic Orion accommodates 102 guests in 53 cabins, including several with balconies. She is spacious and modern, with a variety of public rooms that offer panoramic views of the passing landscape. Friendly and informal, Orion fosters a welcoming atmosphere where like-minded guests share in exceptional experiences and enrichment. Her public rooms include a dramatic window-lined main lounge, as well as an observation lounge and library perched at the very top of the ship, with plentiful observation decks. The spacious lounge is the heart of our expedition community, and is suited for spirited cocktail hours, informative presentations and our nightly tradition of Recap. In addition, a dedicated theater provides a unique setting for specialist presentations or films and slideshows. Both the main dining room and outside buffet easily accommodate all guests at once for open seating dining. On selected nights, weather permitting, our dining room menu is also available on the outside deck. While Orion interiors are elegant, life aboard is always casual, with no need for formal clothing. And you'll find shipboard services like laundry, in-room cabled internet, and public-area wifi.
Highlights
• Dive or snorkel the stunning reefs of Fakarava, part of a UNESCO Biosphere Reserve, and the Pitcairn Islands, identified as one of most unspoiled reef systems in the world by National Geographic Explorer-in-Residence Enric Sala. • Trace the legend of the ill-fated H.M.S. Bounty from Tahiti to Pitcairn Island, where descendants of its mutineers still live today. • Explore the unusual geology and wildlife of Henderson Island, a UNESCO World Heritage site, and look for endemic bird species. • Delve into the intriguing lost culture of Easter Island, and examine ancient burial sites and towering moai with an archaeologist.
Map