---
from
---
Note: Current p/p indicative rate. Final price may change due to currency fluctuations.
Ship
National Geographic Orion
---
---
Overview
Remote and enigmatic, the Marquesas are islands that belong to the past. Some of them virtually untouched since the era of European exploration, their isolation has given way to a proud people whose unique Marquesan dialect is a direct link to the ancient Polynesian language of Maohi. Indeed, it is believed locally that the spirits of the ancient Maohi live among the islands' saw-toothed peaks and lush, verdant valleys, and the limestone caves and grottos that we'll explore. Herman Melville penned his indulgent novel Typee based on his time on Nuku Hiva and established himself as the "man who lived among the cannibals," and Robert Louis Stevenson landed here aboard his yacht Casco in the late 19th century. At sea we'll encounter cetaceans, potentially the rare melon-headed whales, and we'll dive among manta rays. In 2021, there will be a slight modification to the itinerary. The ship will embark in Bora Bora instead of Papeete. There will be an additional cost for the charter flight from Papeete to Bora Bora.
Departures
Note: Current p/p indicative rate. Final price may change due to currency fluctuations.
Cruise Itinerary
Arrive in Papeete, Tahiti early this morning, check in to dayrooms at the Intercontinental Tahiti, and take a brief tour before embarking National Geographic Orion. (L,D)
---
We begin our exploration of the "Dangerous Archipelago" at Fakarava, one of the largest atolls in French Polynesia and part of a UNESCO Biosphere Reserve. After a festive welcome with traditional dancers, learn about the island's pearl industry, and walk its pristine beaches. Snorkel the protected reefs or ride the current into the lagoon on a world famous drift dive. Continue to Raroia, one of the easternmost atolls in this chain, and the site where Thor Heyerdahl's famous Kon-Tiki raft made landfall in 1947. (B,L,D)
---
A day at sea brings us to one of the most remote island groups on earth, the Marquesas Islands. We begin our exploration of this archipelago at Hatiheu Bay, on the north shore of Nuku Hiva Island. Visit ancient petroglyphs and witness a spectacular dance performance at a Marquesan me'ae, or hike up the valley with the naturalists and local guides in search of rare birds and spectacular views. Later, sample local foods in the village, and peruse unique arts and crafts. (B,L,D)
---
At Hiva Oa, go ashore at the village of Puamau to visit the stunning Marquesan me'ae, Iipona, and photograph one of the largest tikis in Polynesia. Stop for a fresh-baked French baguette before a short visit to Calvary Cemetery and the gravesites of French artists Paul Gauguin and Jacques Brel. (B,L,D)
---
Be sure you're on deck this morning to photograph the volcanic pillars of Hanavave Bay, as Orion approaches one of the most storied shorelines in the entire Pacific. Visit a remote village where you'll see displays of uniquely Marquesan arts and crafts. Choose a challenging hike to a remote waterfall, or take Zodiacs to the next bay where local transport takes you on a birdwatching foray deep into the Omoa Valley. (B,L,D)
---
Our last two days in the Marquesas are open for exploration. Scuba dive with manta rays, search for rare cetaceans with your naturalists and marvel at the rugged volcanic silhouettes of these legendary islands from the Zodiacs and kayaks. (B,L,D)
---
We let nature be our guide for these days, as we explore some of the more than 80 islands and atolls that make up this seldom-visited archipelago. Snorkel or dive stunning healthy reefs, kayak and stand-up paddleboard on turquoise lagoons, and walk pristine beaches beneath coconut palms. (B,L,D)
---
An uplifted coral atoll, the island of Makatea is one of the most unique landforms in the Pacific. Spend the day exploring limestone caves and grottos with your expedition team and local guides, or search for endemic fruit doves and myriad seabirds, then snorkel and dive among clouds of colorful fish on the nearby reef. (B,L,D)
---
Disembark in Papeete this morning and tour Tahiti before flights home. (B,L)
---
All day-by-day breakdowns are a sampling of the places we intend to visit, conditions permitting.
---
National Geographic Orion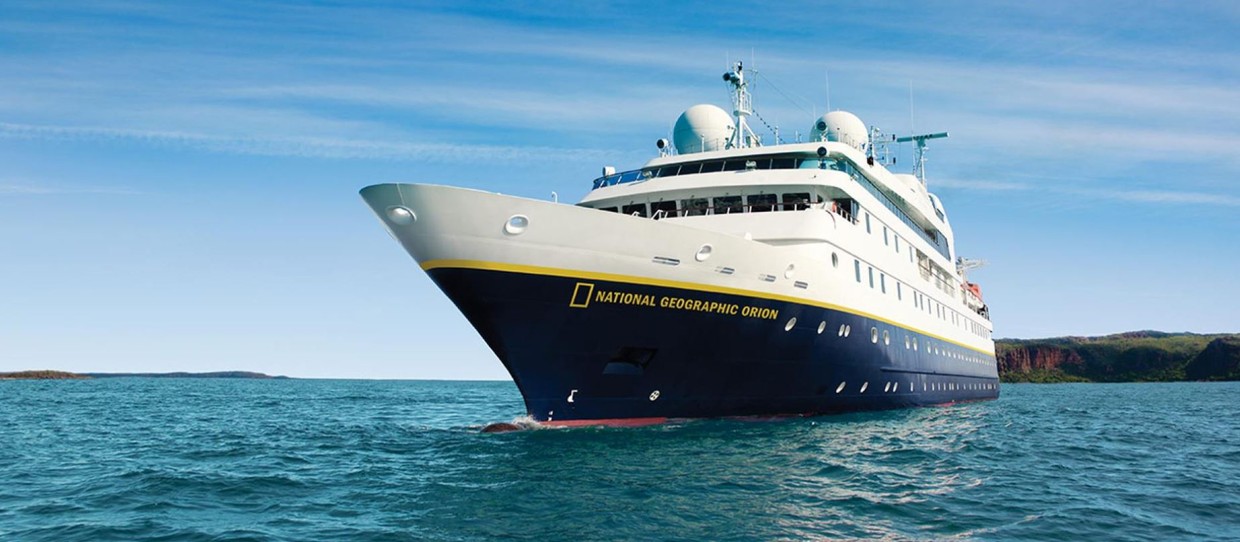 Vessel Type: Luxury Expedition Length: 103 metres Passenger Capacity: 102 (in 53 cabins) Built: 2003 / Refurbished 2014 Engineered for maximum comfort and safety, Orion is equipped with the latest technology including large retractable stabilizers, sonar, radar, and an ice-strengthened hull. A shallow draft plus bow and stern thrusters provide the convenience of being able to maneuver close to shore. 14 Zodiacs ensure quick disembarkation and offer the ideal transport for up-close exploration. National Geographic Orion meets strict specifications for environmental protection and the on board waste management systems meet the stringent Antarctic operational standards enabling us to travel to the most pristine environments. A host of advanced design features and technology ensures sustainable marine environmental practices. National Geographic Orion accommodates 102 guests in 53 cabins, including several with balconies. She is spacious and modern, with a variety of public rooms that offer panoramic views of the passing landscape. Friendly and informal, Orion fosters a welcoming atmosphere where like-minded guests share in exceptional experiences and enrichment. Her public rooms include a dramatic window-lined main lounge, as well as an observation lounge and library perched at the very top of the ship, with plentiful observation decks. The spacious lounge is the heart of our expedition community, and is suited for spirited cocktail hours, informative presentations and our nightly tradition of Recap. In addition, a dedicated theater provides a unique setting for specialist presentations or films and slideshows. Both the main dining room and outside buffet easily accommodate all guests at once for open seating dining. On selected nights, weather permitting, our dining room menu is also available on the outside deck. While Orion interiors are elegant, life aboard is always casual, with no need for formal clothing. And you'll find shipboard services like laundry, in-room cabled internet, and public-area wifi.
Highlights
• In-depth exploration of the Marquesas, one of the most remote and culturally unique island groups on Earth, both on land and by sea. • See ancient stone sculptures, including one of the largest tikis in Polynesia, on Hiva Oa. • Hike to a remote waterfall and search for rare birds on far-flung Fatu Hiva. • Dive or snorkel the stunning reefs of Fakarava, part of a UNESCO Biosphere Reserve.
Map